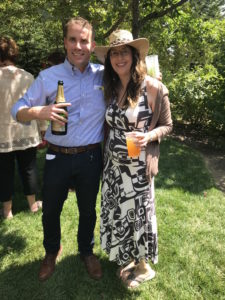 On August 19, 2018, I represented Redwood Psychological Association and attended the Boots, Beans, and Brews event for State Senator Mike McGuire. Senator McGuire talked about the impact of various fires on Northern California since 2015, including having 2 Lake County fires, the October 2017 fires, and most recently the fires in Shasta County, California. Senator McGuire noted that we have had to change our way of doing business, such as introducing universal alerts for emergencies and pre-positioning fire personnel when red flag alerts are issued. CalFire now provides a year-long response to potential fires as well.
Senator McGuire noted that California is the number one state in job growth and has the 5thlargest economy in the world. Approximately $1.5 million is being spent in initiatives for affordable housing, with $4 million in new initiatives to be introduced. Due to governmental efforts, California has the strictest climate change laws, which have resulted in the largest reduction of greenhouse gas emissions compared to peak reduction previously in 1990. Senator McGuire has also spearheaded watershed restoration efforts to help in recovery after the fires and is introducing legislation to ban refining off of the California coast.
Senator McGuire noted that the 2018 fires in Lake County differ in size and scope from previous fires. In addition, demographics are different, so that Lake County has greater challenges in finding economic resources for fire recovery. Senator McGuire helped to raise $3.5 million for Lake County recovery, noting that Redwood Credit Union underwrote grants at no cost.
Senator McGuire discussed the fact that many families in Lake County have lost their homes twice. Money raised for assistance often is raised outside of the county due to limited resources within. Senator McGuire helped coordinate a welcome event for students returning to school after the recent fires. In addition, RCU again provided grants to assist with school supplies and mental health needs. Senator McGuire pledged that all schools that saw declining enrollment because of fires would receive funding for full attendance.
If you are interested in assisting with fire relief for Lake and Mendocino counties, consider giving to the North Coast Opportunities Fire Relief Fund. More information can be found at https://www.ncoinc.org. For more information on the activities of Senator McGuire, check out his website at https://sd02.senate.ca.gov.
Thank you,
Christine Naber, PhD, RPA President 2018