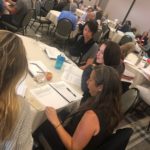 After the fires of October 2017, the RPA has collaborated with other healthcare-related agencies to provide training for healthcare professionals in disaster response. The first Skills for Psychological Recovery (SPR) workshop occurred in April 2018 and was attended by more than 150 healthcare professionals. I attended the most recent SPR workshop on July 27 and 28. As we approach the one year mark of the October 2017 fires and experience the stress of catastrophic fires around the state of California, I felt that it was important to address the issue of disaster response in my ongoing training as a psychologist.
The presenters, Dr. Patricia Watson and Dr. Doug Walker, provided an interactive training with small group discussions and personal anecdotes about their own experiences providing disaster response around the country. In addition to stressing the importance of fundamental counseling skills like listening and being present for survivors of a disaster, Dr. Watson and Dr. Walker highlighted the need for mental health professionals to help survivors take action in mobilizing their resources. They shared techniques for helping survivors to make priorities as they move through the recovery process. They discussed how survivors may need support in setting and attaining behavioral goals like calling their insurance company or finding appropriate care for their pets. During this discussion, Dr. Watson and Dr. Walker noted that mental health professionals may need to be directive at times when survivors have been overwhelmed and disoriented by the stress of a disaster. As my training has consisted almost entirely of client-centered and client-led therapy, I found this aspect of the training an important piece to keep in mind when I provide support to disaster survivors.
The next SPR training will occur on October 4 and 5. The training provides guidebooks for SPR, 12 continuing education credits, and an opportunity to interact with all types of healthcare professionals to discuss the issue of disaster response. I hope that you will have the opportunity to attend the workshop!
Justin Collmann, Ph.D., RPA Member and Licensed Psychologist