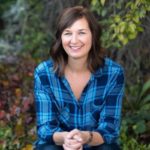 Stephanie P. Morgan, MFT was licensed in 2007.  She grew up in San Diego, CA and attended UC Davis for her undergraduate degree and JFK University for her Masters.
She spent most of her adult life in the East Bay but in 2013 she moved to Penngrove where she now lives with her husband, 2 1/2 year old son and two dogs.
Stephanie has always been drawn to psychoanalytic and psychodynamic work and has mainly worked with clients in long-term treatments.  She doesn't shy away from "being in it" with her clients, she sees herself as warm, related and sturdy.  She has a diverse practice and welcomes people from all walks of life.  She has a special interest in working with men who want to improve their relationships and the specific concerns of young adults (sexuality, family and social relationships, healing from childhood trauma).  Stephanie has experience and interest in working with dissociative disorders, borderline functioning, trauma, narcissistic wounding, as well as anxiety and depression.
In addition to offering long-term relational work, Stephanie offers CBT for Insomnia.  As a former insomniac, Stephanie knows the often hidden and silent misery of chronic sleeplessness.  She finally cracked the code with CBT and now helps others retrain their brain to sleep again.  Individual and group sessions available.
Stephanie offers clinical consultation for clinicians who want to think more about underlying unconscious factors at play in difficult treatments.  She also offers consultation for therapists who want explore and work though obstacles to growing their businesses.